Mini box to go in battle, which is your favorite? Following the mini version of the millet box, the Skyworth box mini is also stunning! So, Skyworth box mini and millet box mini version which is better? Xiao Bian made detailed comparisons on the appearance design, configuration parameters, and highlighting features of the two small TV box products, and took a look at the same 199 yuan TV box product which is more powerful!

Skyworth box mini and millet box mini version which is better? First look at a parameter comparison table!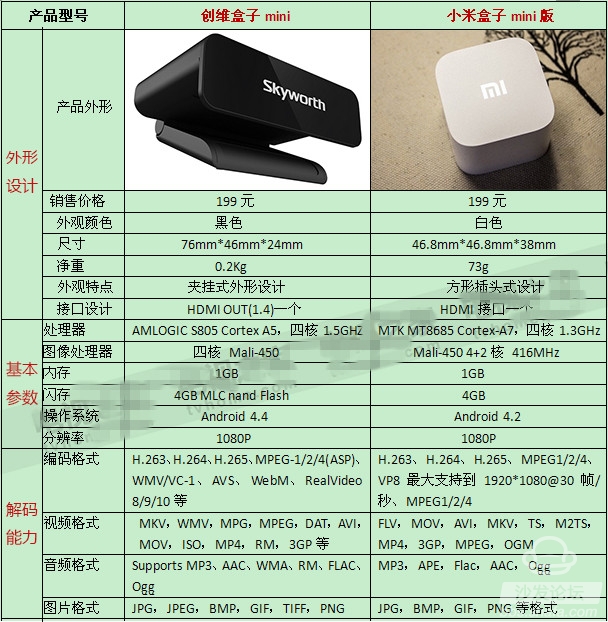 Skyworth box mini and millet box mini version parameter comparison table

Shape design:

Skyworth box mini uses a clip-on shape design, black body color selection, only 76mm46mm24mm body size and 0.2Kg body weight, the world's smallest TV box products. Skyworth box mini is Skyworth's smallest TV box product, and it is also a clip-on design concept, which realizes exterior design and puts a brand new form at home!

Millet box mini version uses a square plug stereo body design, the specific measurements are 46.8mm46.8mm38mm, weight is about 73g. There are black and white choices on the body color, the appearance of a white millet box mini version at the conference, the overall body with a white design, the bottom is bright orange.

Interface settings:

Skyworth box mini and millet box mini version, due to the limitations of the compact body configuration, in terms of interface design are bound to limit. The two TV box products have only one HDMI interface in the whole body, and the power supply is integrated into the body.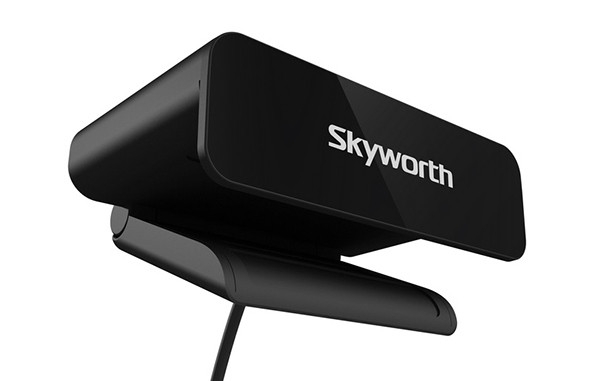 Hardware configuration:

Skyworth box mini equipped with AMLOGIC S805 quad-core Cortex A5 architecture 1.5GHZ frequency processor, quad-core Mali-450 image processor, 1GB memory, 4GB flash memory, with Android 4.4 operating system, and using iqiyi launcher UI interface design. Although it is not the top configuration in the current TV box market, it can also satisfy most of the users' needs!

Millet box mini version MTK MT8685 quad-core Cortex-A7 architecture, 1.3GHz frequency processor, 1G memory and 4G flash memory, build Android 4.2 operating system.

On the decoding capability:

1080P + H.265 hard solution standards: Skyworth box mini and millet box mini version, the same maximum support resolution of 1080P, the highest support hard solution standard is H.265. The H.265 intelligent hard solution standard compares to the current mainstream H.264 video encoding. Under the same picture quality, H.265 video encoding can greatly compress the video volume, which can save video storage space and broadband resources.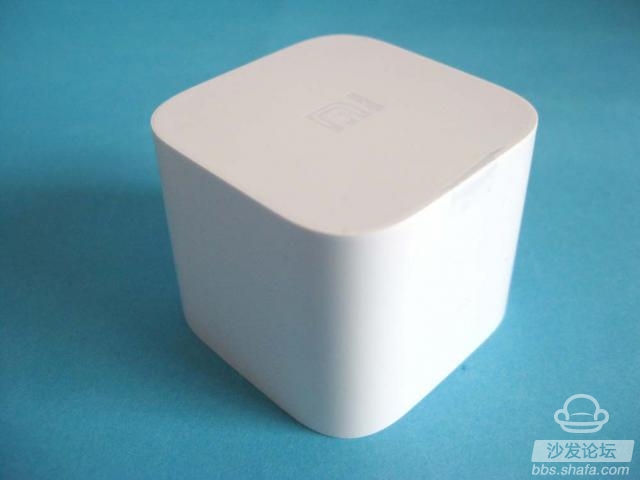 Unique design:

Skyworth box mini in the shape design, with emphasis on "small" and "odd"! "Small" is the small and exquisite appearance of the fuselage, "odd" is the way home is placed, from "pendulum" to "clip", a new TV box products to create a new situation at home! Since the minibox of the Skyworth box is small, the design of the interface is bound to be limited. Therefore, the Skyworth box mini is only one HDMI OUT (1.4) interface.

Millet box mini version in the shape design, with "small to incredible" as the highlight, claiming that the TV box can be placed in any corner, without having to specially prepare space for it! The overall appearance of the four-dimensional design, connected to the socket like a power plug size!

Summary: Both the Skyworth box mini and the millet box mini version emphasize the unique shape design. Compared to the compact design of the mini box of the millet box, the Skyworth box mini uses the clip-on design concept and is easily clipped. The smart TV's LCD screen does not occupy any home space! Skyworth box mini and millet box mini version is almost the same in hardware configuration and decoding capabilities, although not the top configuration products, but also to meet the needs of most users of television box products!
This content is copyrighted exclusively by SofaNet. Welcome manufacturers to further exchanges and cooperation with us to create more in-depth product reports.

Smart TV box recommended to install sofa butler, download address: http://app.shafa.com/

Sofa Net is an Internet technology company specializing in smart TVs and boxes. It owns popular products such as sofa butlers, sofa tables, and sofa forums. It has been committed to providing high quality application resources for smart TV and TV box users and active community exchanges. And authoritative evaluation of smart TV products.
Morden Noodle Maker,Portable Kitchen Tools,Household Kitchen Tools,Commercial Juice Machine

JOYOUNG COMPANY LIMITED , https://www.globaljoyoung.com