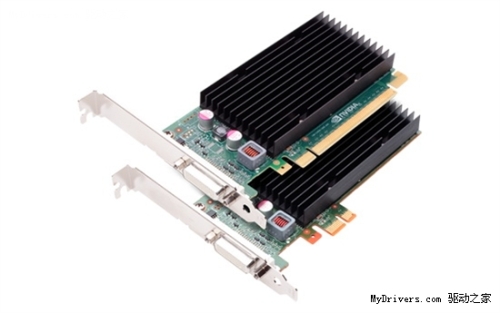 NVIDIA today announced the launch of the new commercial-grade graphics "Quadro NVS 300," specifically designed for commercial customers requiring multi-screen output, and can support eight-screen output with four cards.

The Quadro NVS 300 core is not the latest DX11 Fermi architecture, but it still belongs to the DX10.1 GT200 level and can basically be seen as a GeForce 210 derivative. The card has 16 stream processors, supports DX10.1, OpenGL 3.3, CUDA, nView, Mosaic (only for Windows 7) and other technologies, equipped with 64-bit 512MB DDR3 memory, bandwidth 12.6GB / s, the entire card maximum power consumption Only 17.5W, fanless single slot design, in line with Energy Star energy standards.

The most special place for this card is the output interface. Only one DMS59 is provided, but two VGAs, two single-link DVI-I, two HDMI or two DisplayPorts can be used to transfer the highest resolution. Up to 2560×1600. If four cards are connected in parallel, eight outputs can be supported at the same time, so that an eight-screen system can be formed using different display devices.

The card also has two PCI-E x16, PCI-E x1 system interface forms that can be easily used on different PCI-E slots.

The proposed retail price of Quadro NVS 300 is US$149, which will be listed globally from today, and will be represented by PNY, Elsa, Leadtek in North America, Japan, and Asia.