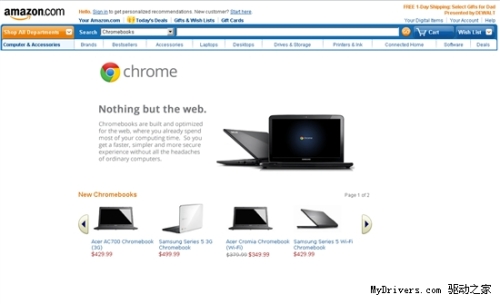 After the pre-purchase, the Chromebook, which has attracted many users' attention, was formally launched today. At present, the first manufacturers to sell Chrome OS system notebooks are only Acer and Samsung.

Users in the United States can now go to Best Buy, Amazon, and other retailers to buy Acer and Samsung's Chromebook. The Acer 3G and WiFi versions of the Chromebook AC700 come in only one color, priced at US$429.99 and US$349.99, or approximately RMB2800 respectively. 2250 yuan.

The 3G and WiFi versions of the Samsung Series 5 Chromebook are available in white and silver, and are priced higher than the Acer AC700, which is $499.99 and $429.99 respectively, or approximately RMB3,250 and 2,800.

The first Chromebook configuration is basically the same. Compared to the 12.1-inch display used by the Samsung Series 5, the Acer AC700 is equipped with a 11.6-inch screen. Both are equipped with an Intel Atom N570 processor clocked at 1.66 GHz, built-in 2GB DDR3 memory and 16GB solid-state drive, SD card reader, 2 USB and HDMI interfaces.