Huang Zitian, chairman of Dongguan Shilong Fuhua Electronics Co., Ltd., graduated from the department of industrial electrical automation of South China University of Technology and holds a master's degree in business administration from Tsinghua University. He currently serves as Vice President of Dongguan Shilong Chamber of Commerce and Vice Chairman of Dongguan Semiconductor Lighting Association.

Huang Zitian successfully created the "UE" brand, making Shilong Fuhua Electronics Co., Ltd. of Dongguan City the major power product manufacturer in China.

In Huang Zitian's eyes, Guan business people are low-key, pragmatic, and humble; but in terms of acting, Guan business is bold, rigorous and open.

Shilong Town, developed by technology companies, is full of "innovation" on every square meter of land. A large number of technological companies have made Shilong Town a legend for development, making this the smallest town in Dongguan the most "wisdom" place.

In Shilong's land of entrepreneurship, under the direction of large-scale foreign-funded technology companies, Shi Huangren's Huang Zitian not only set up his company in Shilong Town, which is full of "scientific and technological factors", but also has a keen business acumen and firmness. Will, will make the family workshop-style company become one of China's top 100 LED industry companies.

He successfully created the "UE" brand and made Dongguan Shilong Fuhua Electronics Co., Ltd. (hereinafter abbreviated as "Fuhua") a major power product manufacturer in China. At the same time, Mr. Huang Zitian also won the "China Power Industry Top Ten Persons" title.

In 2011, Fuhua was awarded with a special LED fund of 10 million yuan for special funds from strategic emerging industries in Guangdong Province, and it became the first company to receive tens of millions of yuan in funding in Shilong Town's technology field.

Hard business start running customers to buy materials also package delivery. Dongguan City Shilong Fuhua Electronics Co., Ltd. is located in Shilong Town, Dongguan City, the new urban area Huangzhou Fuhua Electronic Industrial Park. The industrial park has a total area of ​​over 60,000 square meters and is a modern intelligent garden-like industrial park.

When Huang Tiantian was first seen, he was drinking tea in his office and took IPAD to see company materials. However, seeing this, you may be hard to imagine the hardships of its entrepreneurial period.

In 1989, thanks to the results of the second shift of global manufacturing, Dongguan became one of the most developed places in the manufacturing industry.

This year, Huang Zitian, who was working in the town of Shijie Town, produced a single year. After consulting with family and friends, he established Fuhua Electronics Factory and began to undertake power production.

"In the early days of entrepreneurial business, the market was very hot and there was no market for it. If you had a product and you could sell it immediately, the profits would be very good." Huang Zitian recalled that at that time, the capacity of the township office of Shibu Town was insufficient, not The few people started to go it alone. In this context, he decided to start a business.

At that time, setting up factory funds was not a problem. Technology was a big problem. Huang Zitian said that as long as you set up the factory, the other party will provide you with raw materials and funds for production. The factory only needs technology and can produce qualified products.

Although venture capital at that time was not a problem, Huang Zitian, who was the first to start a business, needed to face many problems. Technology, orders, delivery, raw materials, etc. all require him to handle it personally.

Huang Zitian said that at that time his customers were concentrated in Guangzhou and the production materials required were also concentrated in Guangzhou. In order to talk about orders, purchase equipment and raw materials, he needed to travel back and forth on the train between Guangzhou and Dongguan. It's a car that drives when it's dark, and it's late at night. Talking about customers, product technology, buying materials, and even shipping are all hands-on."

He said that such a situation has been maintained for several years, until the company to achieve a certain scale, he did not need to run between Guangzhou and Dongguan.

Focus on power 25 years to develop more than 10,000 power products Today, Huang Zitian's product brand is "UE" brand, Dongguan Shilong Fuhua Electronics Co., Ltd. has become the main domestic power product manufacturers. The main products are LED drive power supply, medical power supply, communication power supply, mobile phone charger, lithium battery charger, car charger, USB switch power supply charger.

Unlike many manufacturing entrepreneurs who change their products, Huang Zitian has been committed to the production of power products since his establishment and has not transferred to other manufacturing fields. 25 years. He has always been doing power products, but as the market continues to change, its power supply products are also subject to different changes.

In the initial stage of entrepreneurship, his power products were used in black-and-white televisions, followed by stereos, telephones, home appliances, network switches, and mobile phones. After 2007, his products gradually turned to LED. There are more than 10,000 different types of products today.

"UE", a brand name brand, has obtained safety certifications from various countries such as CCC, TüV, UL, CSA, PSE and CE. Huang Zitian pointed to the company's production brochure as a product told reporters that each certification mark behind this product represents an approval. All of these certifications were taken down and required more than 2 million.

"The reason why the company has been able to maintain its growth for so many years has not been eliminated. It should be attributed to its own 'concentration' to a large extent." Huang Zitian said that it does not do anything to make money, but has always been adhering to the "100-year enterprise" Dream, always sticking to the same field, believes that success can be achieved.

This focus also allows Huang Zitian's business to maintain rapid growth. During the financial crisis, Fuhua adapted to changes in the market in a short period of time and maintained rapid growth in the following years.

A PVC Insulated Power Cable is a electric cable with flexible copper or aluminum conductor ,PVC insulation and PVC sheath. For some special application like for direct burial or for exposed installation, protective jacket of steel tape or wire is also necessary. The shape of PVC insulated Power Cable may be round or flat. Some PVC cables may select flame retardant material sheath for fire safety consideration.

Product Features

l Widely used to transmit and distribute electrical power in low voltage circuit.

l Choices of conductor& jacket material to suit the requiring applications.

l Armor material options to provide high flexibility and excellent mechanical protection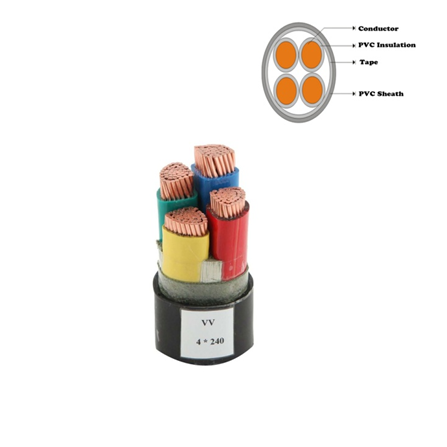 Using features

l Max. permissible continuous operating temperature of conductor: 70℃.

l Max. temperature of conductor during short-circuit(5s maximum duration) shall not exceed:
Cross-section of conductor ≤300 square mm: 160℃;
Cross-section of conductor >300 square mm: 140℃.

l The ambient temperature under installation should not below 0℃.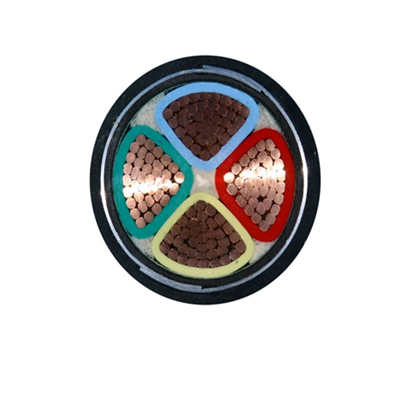 Application

l Non-armored type is unable to bear external mechanical force for laying indoors, in tunnel or pipe.

l Steel tape armored (STA) type is able to bear external mechanical force but unable to bear large tension for laying indoors, in tunnel or pipe.

l Steel wire armored (SWA) type is able to bear external mechanical force and certain tension while apply for laying in high drop are.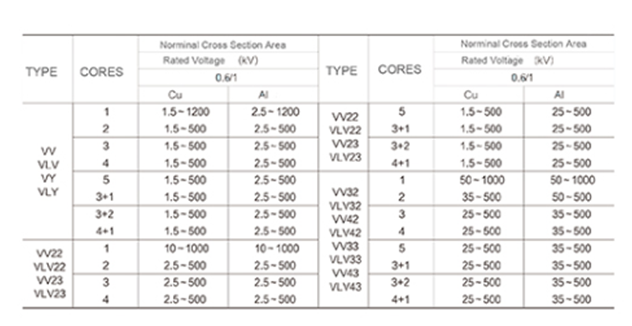 FAQ

Q: Are you a factory or trading company?
A : We are a manufacturer. We are professional in developing and producing electrical wires and cables since 2001.

Q: Can I visit your factory?

A :Yes! You are welcome to visit our factory for further detail check.

Our factory is located in Minqing,Fujian.You could choose to fly to Xiamen/Fuzhou International airport. And tell us your flight No. We will arrange to pick you up if you like.

Q: May I buy samples from you?

A: Yes! You are welcome to place sample order to test our superior quality and services.

Q: Can you put my brand name (logo) on these products?

A: Yes! Our factory accepts to print your logo on the products.

Q: May I know the status of my order?

A: Yes .The order information and photos at different production stage of your order will be sent to you and the information will be updated in time.

We would like to offer you professional cable solutions to your particular requirement. And OEM service is available based on official and legal authorization. Please do not hesitate to contact us for more details.

PVC Insulated And Sheathed Power Cable

PVC Insulated And Sheathed Power Cable,Insulating Electric Power Cables,PVC Sheathed Power Cables,Al PVC Jacket Electric Cable

Fujian Lien Technology Co.,Ltd , http://www.liencable.com