Panasonic announced on April 5, 2016 that it has developed a "FULL BRIGHT PP", a light-diffusing polypropylene (PP) resin molding material that can realize complex shape processing, and started mass production in April. In addition to injection molding, the material is also capable of injection stretch blow molding, contributing to increased design freedom.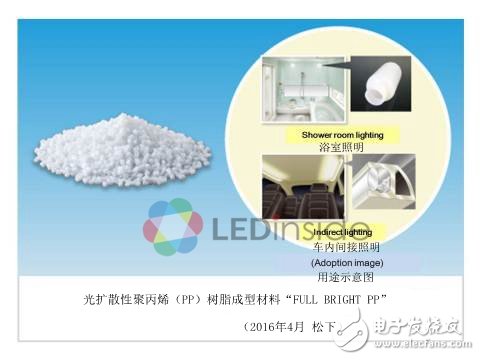 Light diffusing PP resin molding material "FULL BRIGHT PP" (photograph from Panasonic Press Release)

In general, LED lighting is provided with a diffusing plate for maintaining uniform brightness around the light source. The base material of the diffusing plate is mostly polycarbonate or acryl resin. In addition, the installation environment of the LED light source is also versatile, and in this case, the substrate of the diffusion plate is required to have higher light resistance and durability and further reduced in weight. Although the light-diffusing polycarbonate and the propylene-based resin have excellent workability, the specific gravity of these materials is high, and there is a problem that weight reduction is required. The light-diffusing PP resin molding material has a low specific gravity, but it is a crystalline resin, so that the fluidity is inferior, and it is difficult to realize complicated shape processing, and there is also a problem of light resistance.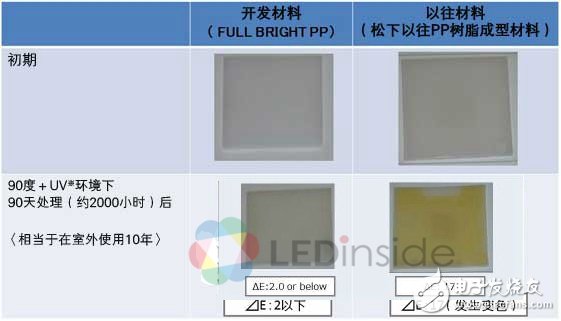 Lightfastness accelerated test results (photograph from Panasonic Press Release)

The FULL BRIGHT PP released this time has improved the fluidity (MFR) to 25g/10min (20g/10min in the past) with the melt control technology developed by Matsushita, which meets the requirements of injection stretch blow molding. In addition, 0.5mm thin-wall molding that could not be realized can be realized. It can also be used for complex designs such as deep drawing and surface finishing of highly creative LED lighting.

By developing a resin design technique that imparts light resistance, weather resistance (water resistance, moisture resistance, and chemical resistance) is obtained while achieving excellent light resistance. The discoloration after 90 days of treatment in a 90 degree+UV environment corresponding to 10 years of outdoor use is ⊿E: 2 or less (the conventional material is ⊿E: 17). In addition, the specific gravity is 0.93, and the weight in the same volume can be reduced by 30% compared with polycarbonate (1.2).

2500 Puffs Electronic Cigarette

ALD GROUP LIMITED , https://www.aldvapor.com