In the past two days, the verbal battle between domestic color TV brands has not been very lively. On March 21st, companies such as Xiaomi, Kukai, Hisense, Skyworth, and Changhong collectively staged a "poster battle". Next, we might as well look at the poster wars. What kind of dry goods.

First of all, Xiaomi wants to release new products on March 23. The contents of the posters are as follows. From the poster copy, it seems that Xiaomi's new products have two major highlights. The first is the bending and the second is the ultra-thin. However, someone in the circle of friends broke the news, claiming that the curved surface TV products released by Xiaomi were only bent, and the bases were not changed. We do not know how the new products will be. If they are really like the material described, they are certainly disappointing.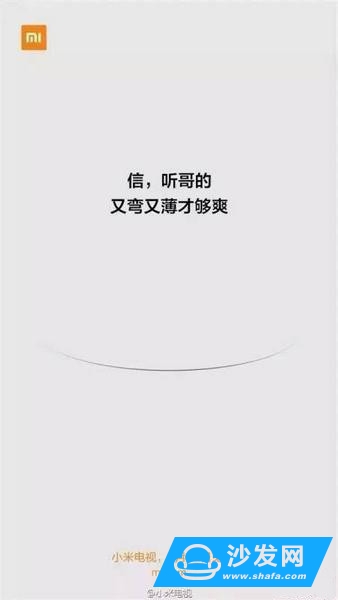 Facing Xiaomi's high-profile "declaration of war", such as Cool Open, Hisense, Skyworth, Changhong, etc. "fighting and fighting", their posters are roughly as follows. It can be seen that these traditional manufacturers seem to have formed a trend of "encirclement and suppression" for Xiaomi. Moreover, at the same time as marking the Xiaomi, they also forgot to boast about their own products.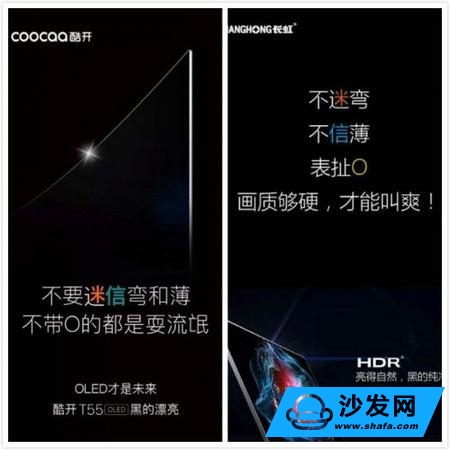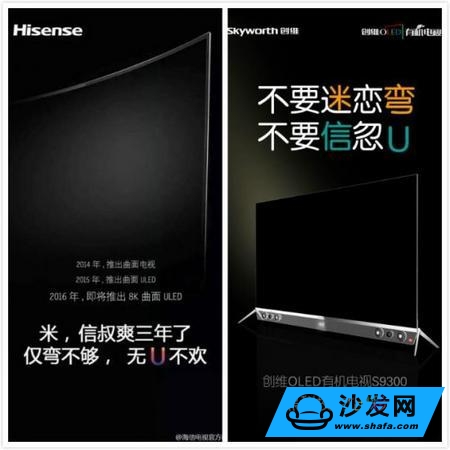 With the fermentation of the war of words, LeTV, the leader in smart TV, joined the war. Public posters were released to respond to this war of words. The contents of the poster are as follows. It is worth mentioning that the LeTV poster copy is "No rice, no sea, no mouth, no reason, and refuses to talk about hardware." Among them, there are "rice", "sea", "open" and "long". The four words are distinguished by different colors, and their intentions are self-evident. Let's take this as a rhythm for the "killing" of brands such as Xiaomi, Hisense, Cool Open, and Changhong. It is worth mentioning that from the perspective of the posters, LeTV will release new products on March 30th. Therefore, this poster can be said to be "one stone with two birds", which both pave the way for the launch of new products and darken a number of manufacturers. Irony.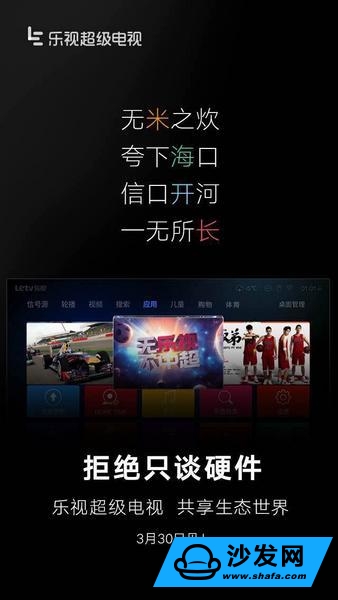 To put it another way, LeTV's fundamental purpose is to promote the launch of new products on March 30th. Then, whether LeTV can end its brand war of words or not depends on whether or not its new products will give power. There is still a period of time before LeTV's new product launch, but the industry has been guessing what new dry goods will be offered by LeTV.

As we all know, before LeTV launched a curved surface television before Xiaomi, to millet millet, the Xiaomi release curved surface television, also be seen outside as music and Leipai, can be said that millet and LeTV as a round of PK has come to an end. In this case, the new products that LeTV will release in the near future mean the beginning of a new round. Then, what new rules of the game will be set by LeTV?

According to an industry senior personage analysis, LeTV is likely to launch Super TV new products or jointly launch a new ultra-thin, curved smart TV with TCL. In fact, this kind of speculation has been confirmed by the side. TCL's poster has come out and is echoing with LeTV's poster, as shown in the figure below. Moreover, the TCL poster also hinted that there will be a relatively large movement on March 30th.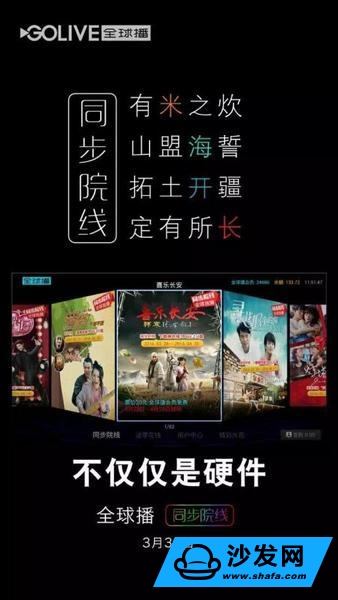 Judging from the consistent style of LeTV, new products will inevitably make full-scale breakthroughs at multiple levels. This is the first time that LeTV and TCL have jointly launched new products. Ultra-thin and curved surfaces will become the most intuitive selling points of the product, because TCL has accumulated a very solid technical strength in this regard, and these two points are also the future. The important breakthrough direction of smart TV can predict that the new products jointly launched by LeTV and TCL are worth looking forward to on these two levels.

In addition, LeTV is expected to bring more surprises in content, configuration and price. Both the TCL and LeTV posters mentioned the meaning of hardware not all. In particular, LeTV's poster highlights the concept of "sharing the ecological world". It is believed that under the powerful arm of the ecological system, LeTV's New products will have stronger competitiveness.

In addition, LeSpot has always been LeSport's "killer". In September last year, LeTV announced a "low-cost production pricing" hardware negative model in Hong Kong. Later in LeTV's new line of products, LeTV's This kind of price strategy has begun to exert its power, and its products have almost no rivals in similar competing products, which also directly promotes the sales of LeTV Super TV to a new level.

So, how can Xiaomi cope with the aggressive situation of music? In fact, in recent years, Xiaomi and LeTV have confronted each other in the field of smart TV. Basically, they are merely followers. According to LeTV's official website, LeTV 4 Max65 Curved Surface Ultra-thin TV Project Commemorative Edition hardware price is 6999 yuan, millet 23 new products may be slightly lower in price, but not much lower. Even in accordance with the price of 6000 yuan new TV products, this product can buy 3 millet mobile phone 5, 2 millet NOTE Netcom top version. From this perspective, Xiaomi's new TV product may be the same as Xiaomi's 70-inch LCD TV. The brand symbolism is more significant than the actual sales.

In addition, Xiaomi is an emerging company led by the light asset model. There are still many deficiencies in the TV industry. In the past, color TV manufacturers and color TV vendors each performed their duties, and foundries seldom personally do product sales, but now, Color TV brand manufacturers and foundries started to make their own Internet TV brands. This is a new challenge for millet without an industrial manufacturing base. To put it bluntly, Xiaomi must rely on other factories for OEM, but if other factories want to do it themselves, will they continue to build millet for them?

This LeTV is more forward-looking, through the equity TCL very good integration with the upstream supply chain. In general, from the perspective of LeTV's posters, there is a great momentum to end the war of color TV brands, I believe that after the release of new products, the major brands will be subject to certain impact, but the most affected will inevitably be Xiaomi. .

APPLICATIONS

DELIGHT lighting pole is ideal for pedestrian, street, highway and other general lighting applications. 2m-4m for garden, parks, pedestrian streets. 5m-12m for roads, highway.12m-30m for plazas, airport, seaport, squares

MATERIAL

Q235, Hot-dip galvanized steel, galvanized plating on both of side of pole. Zinc plating 120-130 micron average. Steel anchor bolt with bolts & screws. Hand pole,

SHAPE

Tapered, Square, Octagonal, Hexagonal, Conical, Round

DEMENSION

Top diameter & bottom diameter, thickness customized, while we will provide proposal according to application condition

FINISH

Finishes include hot dip galvanized or painted. Please consult factory for special finishing color and fixture matching options

Street Light Pole,Light Pole,Street Pole,Yard Light Pole

Delight Eco Energy Supplies Co., Ltd. , https://www.cndelight.com