The main body of Wuhan Jiangxia 500 kV substation, with a total weight of 709 tons, was erected on the eve of the Spring Festival. The station will be put into operation this summer at the peak of the power supply period, providing Wuhan with strong power support. According to the provincial power company, several power grid construction projects including Jiangxia substation will start in Han this year, signifying that Hubei grid investment is tilting towards large and medium-sized cities and the construction of medium- and low-voltage grids. In the future, consumers, businesses, and other users will be more secure.

According to an electric power source, in recent years, the development of power grids in large and medium-sized cities such as Wuhan has lags behind, and there is a history of default, and there is a gap in the peak of electricity consumption. According to the disclosure of the provincial power company, the external environment of Wuhan Power Grid construction and development encountered bottlenecks. During the "11th Five-Year Plan" period, a total of 2.1 billion yuan of power grid planning investment in the city failed to be completed.

According to the plan, in 2012, the total investment of Hubei Power Grid was 12 billion yuan, of which more than 5 billion yuan was used to increase the upgrading of medium and low-voltage power grids. The investment ratio increased from 40% last year to 45%, and the absolute value rose sharply. The Hubei company will promote the preliminary work of the reconstruction and expansion project of the 500 kV Phoenix Mountain Substation to ensure that three 500 kV substations, including Jiangxia, will be completed and put into production, and strive to put 10 220 kV projects and 12 110 kV projects into operation. Launched the 500 kV Hankou Pioneer and Wuchang Laoshan Power Transmission and Transformation Project and accelerated the realization of a 500 kV substation to enter the center of Wuhan City. Power sources stated that they will strive to achieve a complete improvement of Wuhan's urban distribution network in 2 to 3 years. At the same time, it will closely follow the urban construction and economic and social development of Xiangyang and Yichang, and provide strong grid support for the implementation of the "one main and two pairs" strategy.
8 Layer PCB - Stackup & Cost & Prototype manufacture
What is 8 layer PCB?
The 8 layer PCB is a circuit board with 8 layers that are stacked firmly together with predefined and dependable mutual connections between the layers. Structure of eight layer PCB is more complicated. Nowadays, PCBs frequently have 8 to 12 layers or more, and electronics engineers know that designing for so many layers requires a well-configured layer stack.




8-layer Printed Circuit Boards are usually installed in compact equipment with strict spacing requirements, such as notebook computer motherboard, communication backplane, wearable watches, etc. Because of its complexity and high manufacturing costs, your 8-layer PCB Manufacturing should be made by reliable and experienced manufacturers. Jinghongyi PCB has been specially targeting high-end PCB manufacturing and assembly services for 8 years, providing high-quality products and services for various customers. Our advanced production line and fast response team will keep you comfortable and reassured, without any trouble, you can rest assured to place the order with us.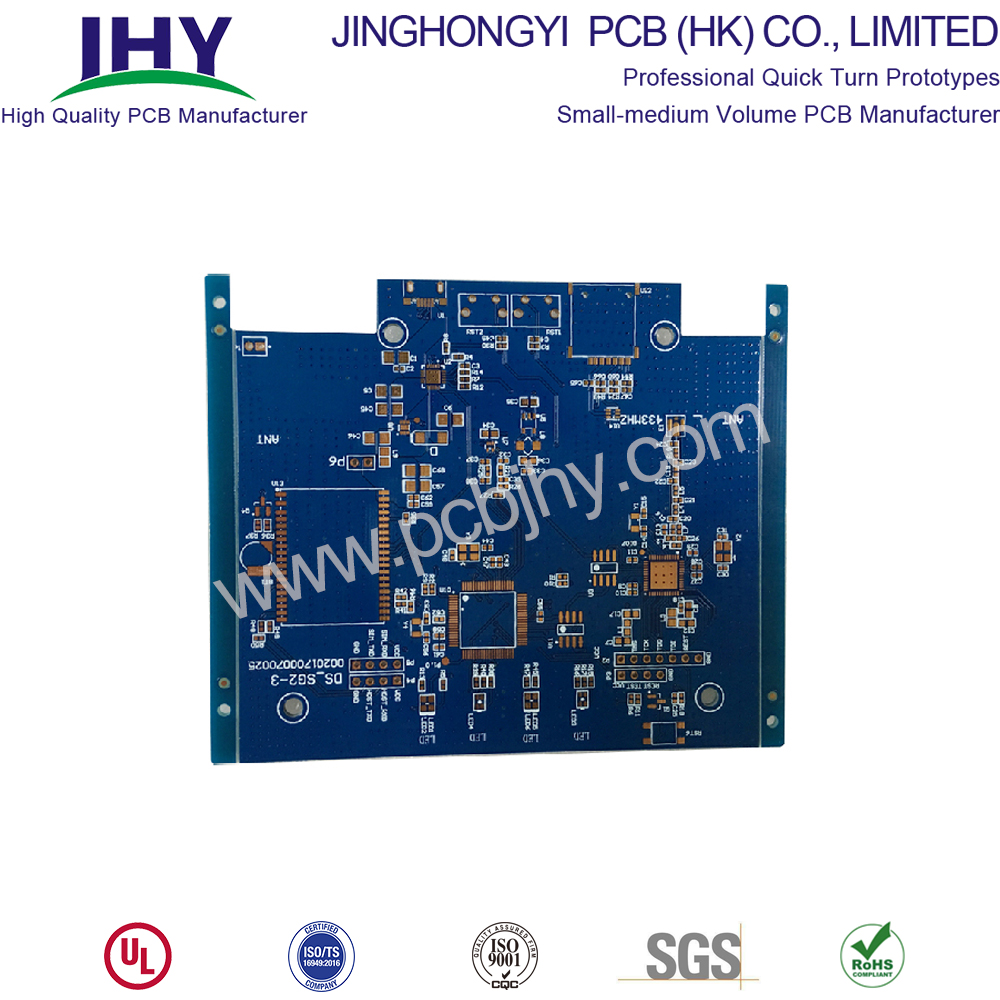 ---
Typical 8-layer PCB stack up methods and guidelines
Standard stackup of 8 layer PCB looks as follows
Signal1
Ground
Signal2
Power
Ground
Signal3
Power
Signal4
Eight-layer PCB can be used to add two additional layers, or two planes can be added to improve EMC performance. Most eight-layer circuit boards are superimposed to improve EMC performance, rather than adding additional wiring layers. Compared with 6-layer circuit boards, the cost increase percentage of 8-layer PCB is less than that of 4-layer PCB to 6-layer PCB. Therefore, in order to improve EMC performance, the cost increase is reasonable. Therefore, most 8-layer boards consist of four wiring layers and four planes.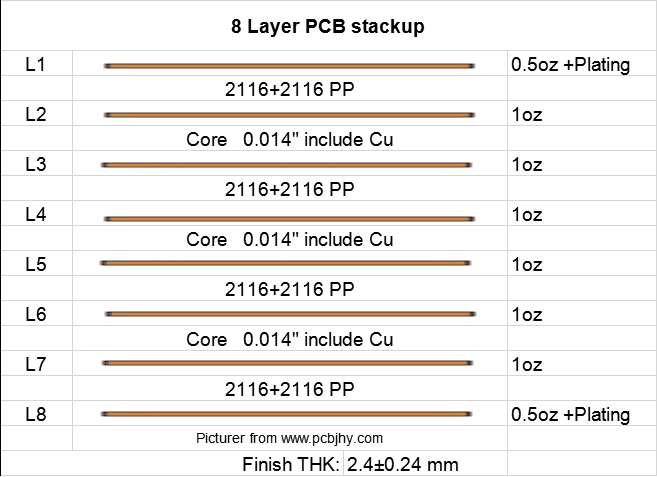 8 Layer PCB Stack up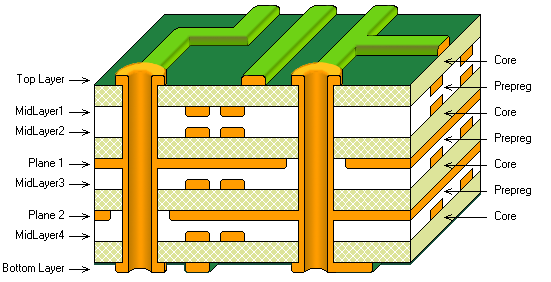 8 Layer PCB stackup

In short, 8 layer PCB are usually used to improve the EMC performance of circuit boards, rather than increasing the number of layers.

No matter how you decide on the stack layer, it is not recommended to use an 8-layer PCB Board with six wiring layers. If you need six routing layers, you should use a

10 Layer PCB

board. Therefore, the 8-layer board can be regarded as the six-layer board with the best EMC performance.
---
Basic Layer of Eight-Layer Circuit Board with Excellent EMC Performance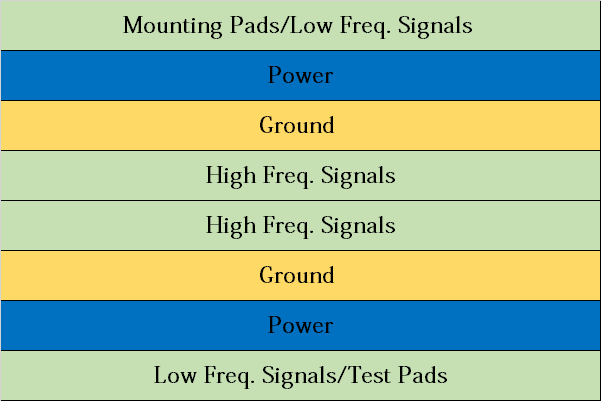 All signal layers are adjacent to the plane, and all layers are tightly coupled. High-speed signals are buried between planes, so planes provide shielding to reduce the transmission of these signals. In addition, the circuit board uses multiple grounding layers to reduce the grounding impedance.
---
Other forms of 8-layer PCB stackup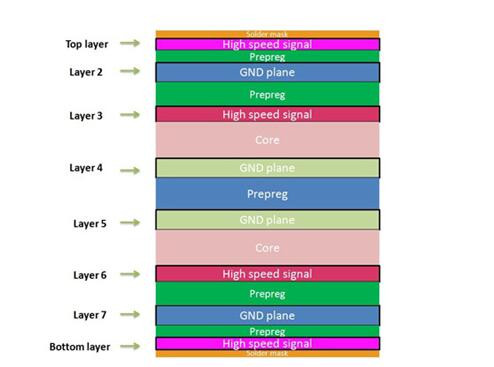 A typical 8 Layer PCB Stackup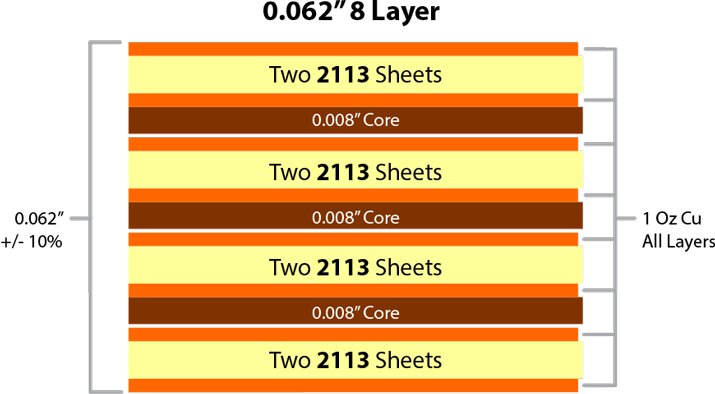 0.062[8 layer PCB stackup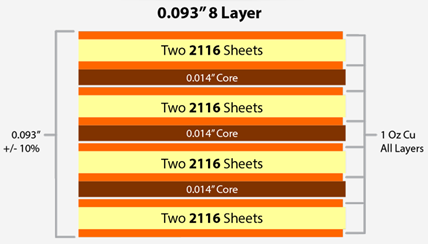 0.093[ 8-Layer PCB Stackup





Let's conclude that using more than eight layers of PCB has almost no EMC advantage. Usually only 8 layers are used when additional layers are needed for signal tracking routing. If six layers of wiring are needed, 10 layer PCB should be used.
So far, we have also clarified the cost and price differences between 6-layer PCB, 8-layer PCB and 10-layer PCB.
---
8 Layer PCB thickness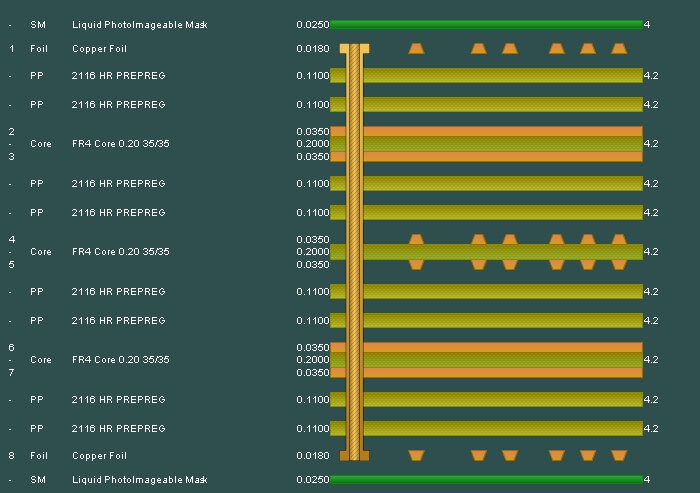 8 LAYER 1.6 MM STANDARD STACKUP AND THICKNESS
8 Layer Stackup - 1.6mm thickness

layer order
layer name
material type
material description
dielectric constant
thickness
copper weight
1
top
copper
signal
0.035mm
1 oz
2116
prepreg
4.5
0.12mm
2
inner 1
copper
plane
1 oz
core
4.6
0.3mm
3
inner 2
copper
plane
1 oz
7630
prepreg
4.7
0.2mm
4
inner 3
copper
plane
1 oz
core
4.6
0.3mm
5
inner 4
copper
plane
1 oz
7630
prepreg
4.7
0.2mm
6
inner 5
copper
plane
1 oz
core
4.6
0.3mm
7
inner 5
copper
plane
1 oz
2116
prepreg
4.5
0.12mm
8
bottom
copper
signal
0.035mm
1 oz
Final board thickness: 1.6mm±0.13mm
---
8-Layer Prototype PCB Manufacturing Service
The 8-layer prototype FR-4 PCB is an 8-layer circuit board, which is firmly stacked together with predefined and reliable interconnection between layers. The 8-layer FR-4 PCB has more complex structure. Jinghongyi PCB is a large enterprise located in Shenzhen, China, which can manufacture 8-layer prototype PCB.

Jinghongyi PCB can provide you with

multi-layer PCB board

in accordance with RoHS standard. With laminated material, it can match high temperature in assembly process. Importantly, some

lead-free assembly

processes will require laminated substrates to withstand temperatures exceeding 260 degrees Celsius or 500 degrees Fahrenheit over a longer period of time. To solve this problem, we have high temperature laminates in stock, so that our customers can meet the higher temperature cycle requirements of some lead-free assembly applications.




JHY PPCB is one of the leading 8 layer PCB manufacturers. For more information, pls send email to us.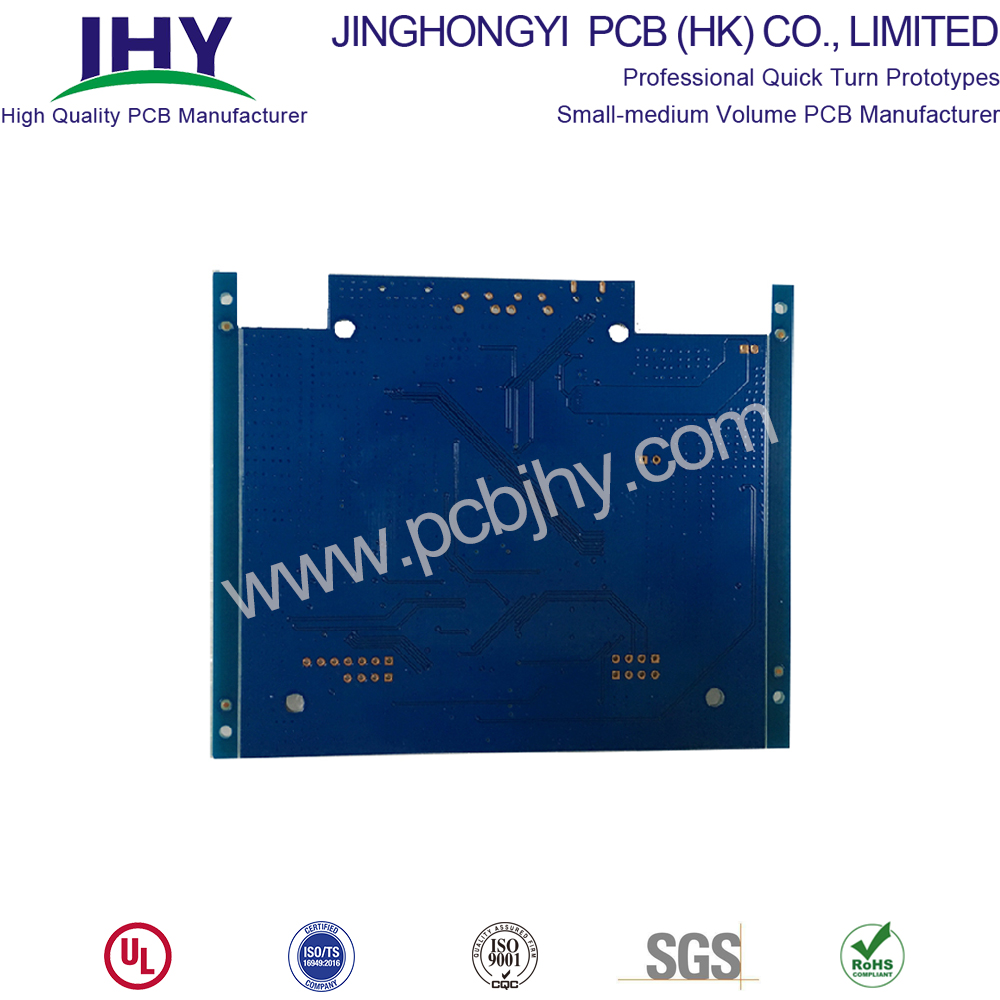 8 Layer PCB

PCB Circuit Board,8 Layer PCB,Custom multilayer pcb,Custom 8 Layer PCB

JingHongYi PCB (HK) Co., Limited , https://www.pcbjhy.com