As the leading brand in the domestic intelligent network TV set-top box market, Kai Boer has brought a large number of novel boxes to box enthusiasts since 2015, covering a wide range of high-end and low-end models. With the arrival of July, Kaiboer teamed up with Jingdong Mall to formally unveil the two latest masterpieces, the Kaibol H9 and the Kaibol F6. Among them, the opener H9, different from the previous boxes, took the lead in adopting a 64-bit true eight-core processor and built-in the latest Android 5.1 system, boasting to define "the highest law in the box sector". At the same time, the debut of the open-Borge F6 can not be underestimated, with "4G memory + 16 Flash + PC-class GPU," said Bor high with the king. The KBolle H9 and Kaibo H6 twins shine in Jingdong, claiming to be the most "burdock set-top box," and this open booking period is from July 24 to July 30, accompanied by first-round fame, a thousand-dollar prize, cash back, etc. The ritual fiery strikes, unprecedented benefits to the majority of users.
Kai Bor H9 listing

Open Bor H9, 64-bit eight-core TV set-top box, Jingdong pre-sale price of 359 yuan, where users can participate in the appointment for 50 yuan, enjoy the initial price of 309 yuan; Kaiboer F6, 4G memory with a TV set-top box, Jingdong pre-sale price of 999 Yuan, where users participate in the appointment can be reduced by 100 yuan, enjoy the initial price of 899 yuan. Kaiboer H9 and Kaiboer H6 have entered Jingdong Mall together, and they are officially open to purchase from July 30 to August 1. The number of active models is limited, so the initial discount price is limited to users who have successfully booked.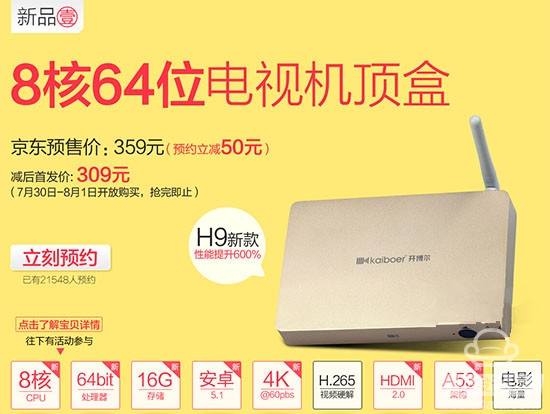 Kai Bor H9 listing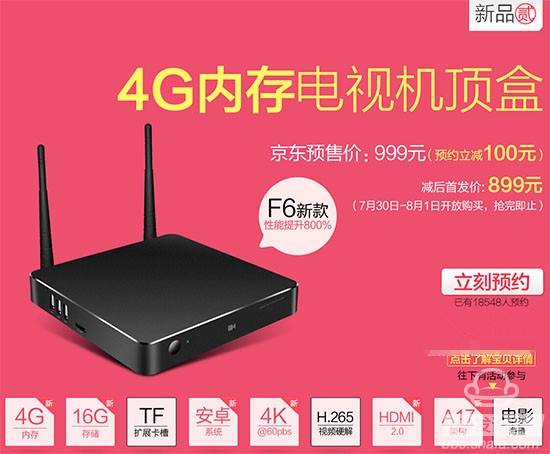 Kaibor H6 listing

In addition, during the entire "Kybor's Jingdong search for sirloin set-top boxes" (July 30-August 9th) around Kaibol H9 and Kaiboer F6, Kaiboer and JD's multiple gifts went on stage. Numerous welfare feedback activities took place simultaneously. , Including: a good gift "Shandan grabs a thousand yuan cash prize"; double gift "mass quota cash back 30 yuan or 50 yuan"; triple gift "the top 100 sun bills to enjoy 10 yuan or 20 yuan cash back" If you want to participate in the purchase of users, there must be "ceremonies"! Users who need to buy smart TV set-top boxes in the near future may wish to view the Jingdong special page. This event is officially operated by Jingbo East, and is fully responsible for distribution by Jingdong, strictly following the "211 deadline. "Delivery" fast delivery, can achieve the next day in most major cities. Reminder, Kaibol H9 and F6 Jingdong entire network starting, July 24 opening the first appointment of a limited number of active models, which is the heart of your mind, the most "studied" set-top box, waiting for you to reveal the answer!
This content is copyrighted exclusively by SofaNet. Welcome manufacturers to further exchanges and cooperation with us to create more in-depth product reports.

Smart TV box recommended to install sofa butler, download address: http://app.shafa.com/

Sofa Net is an Internet technology company specializing in smart TVs and boxes. It owns popular products such as sofa butlers, sofa tables, and sofa forums. It has been committed to providing high quality application resources for smart TV and TV box users and active community exchanges. And authoritative evaluation of smart TV products.



In Ceiling Speakers,Silk Diaphragm Tweeter,In Wall Ceiling Speakers,Two Way In Ceiling Speakers

The ASI Audio Technology Co., Ltd , https://www.asi-sound.com