China Innovation Investment Co., Ltd. (1217.HK) recently announced that it has entered into an equity and shareholder loan replacement agreement to replace the equity of Weimei Vision Co., Ltd. (Vomei Vision) with its shareholding in Innovative Limited (as much as innovation) and shareholder loans. Shareholder loans strengthen the Group's strength in the "new light source" category.

China Innovative agreed to conditionally replace 1,890 shares of B-American Vision held by Joy China Group Limited (Joy China) with up to 150 A-shares and 2,250 B-shares. At the same time, the shareholder's loan amount of Joy China in the company will be HK$51,352,252, with a maximum of HK$51,352,252.

Aesthetic vision is based on LED lighting. It has LED ergonomics technology and is characterized by LED light source, proper luminous flux, arbitrary color temperature, healthy spectrum and ergonomics. Its products are widely used in military and civilian markets.

The main business of innovation is the use of LED backlighting and lighting technology for energy-saving new light sources. It is engaged in research, design, production and sales of new LED light source products for military and civilian use in China.

China's innovation plan applies the technologies and products of new energy, new light source and new materials to solar energy products to create a complete four new industrial chain. The technology and products of the aesthetic vision are more innovative and more able to meet the company's technology for the industrial chain. And product requirements.

About China's innovation investment

China Innovation is an investment company that focuses on investing in the civil engineering of military technology and operating the "three new industries" related projects in the military industry. The "Three New Industries" include "new energy", "new light source" and "new materials". Through these three areas, we have established a unique competitive advantage. The company was listed on the Main Board of The Stock Exchange of Hong Kong Limited (the "Stock Exchange") on August 28, 2002.

Fire resistant Control Cable, a kind of high quality fire resisting performance cable with special formula adding for its protective insulation and jacket such as PTFE ,mica tape or fiberglass yarn.. What makes this cable different from flame retardant cable is that fire resist cable will still keep electrical power on for a certain range of time in case of short circuits or combustion when fire happens. This cable should be used in public places to get a better safety and rescue capability.

Product Features

Long-term working temperature: -40℃ to 200℃

Rated voltage: 600/1000V

Conductor: Copper

Fire resistant material use: fiberglass yarn, mica tape, PTFE

Shielding material use: Tinned copper for screen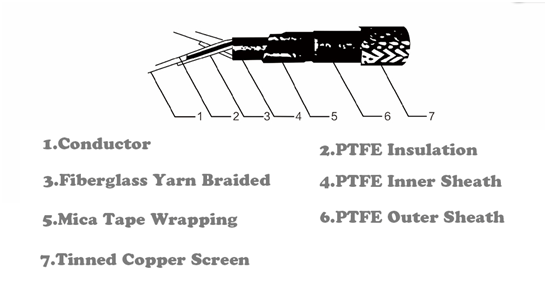 Application

This cable is applicable for below occasions with high fire resistant requirement:

Large-scale construction ,high-rise building

Petrochemical industry, power plants

Subway station, railway station, airport

Hospital, large library, military facilities

Underground shopping mall etc.

FAQ

Q: Are you a factory or trading company?
A : We are a manufacturer. We are professional in developing and producing electrical wires and cables since 2001.

Q: Can I visit your factory?

A :Yes! You are welcome to visit our factory for further detail check.

Our factory is located in Minqing,Fujian. You could choose to fly to Xiamen/Fuzhou International airport. And tell us your flight No. We will arrange to pick you up if you like.

Q: May I buy samples from you?

A: Yes! You are welcome to place sample order to test our superior quality and services.

Q: Can you put my brand name (logo) on these products?

A: Yes! Our factory accepts to print your logo on the products.

Q: May I know the status of my order?

A: Yes .The order information and photos at different production stage of your order will be sent to you and the information will be updated in time.

To receive a quote, further information or advice, Leen Cable invites you to contact us. And you are also welcome to visit our factory if you would like to get closer to our production line.

Fire Resistant Control Cable,Fireproof Control Cable,Fireproof Sheathed Control Cables,Shielded Fire Resistance Control Cables

Fujian Lien Technology Co.,Ltd , http://www.liencable.com