Model NO.: JT701

Size: 195*114*37mm

Use: Automotive

Operating Principle: Mixed Type

Chip: U-Blox

Trademark: Jointech

Transport Package: Carton, Plywood Box

Specification: CE

Origin: China

HS Code: 9032899090

GPS based Electronic Seal for container tracking and door locking solution

Main features:

1.   Unique Design with Unlock by RFID tags/SMS password

2.   Big capacity battery, Long working time

3.   Built-in GSM Module, Remote online monitor

4.   Built-in GPS Module, real time Global Positioning

5.   Safety Monitoring, Alarms For illegal unlocking

 

Application:Â  Container ; Trailer ; Van Truck

       Why JT701 E-seal tracker?

 

1. HOW TO KEEP CARGO SAFE?

    1), JT701 can real time tracking when detect vibration.

    2),  only the right RFID card or right password can open the lock

    3), alarm generate when wrong card swiping to unlock

    4),  alert generate when rope is cut off

    5),  alert generate when back cover is opened

 

2. HOW TO REAL TIME MONITOR?

    1)  by phone App

    2)  by web software

3.  HOW'S BATTERY LIFE?

     Build in 15600mAh battery, can work for months.

 

4. HOW TO CHARGE? 

    by Jointech external charging cable. no need open the backcover.

5.  HOW TO BUY?

     contact us by jointech-gavin(Skype) or email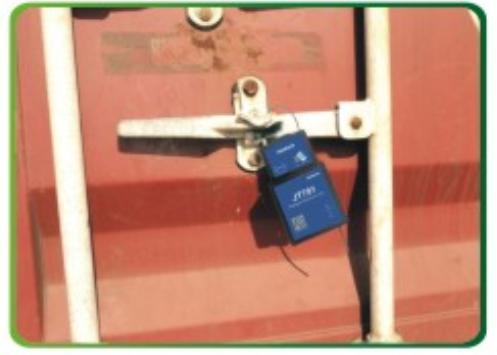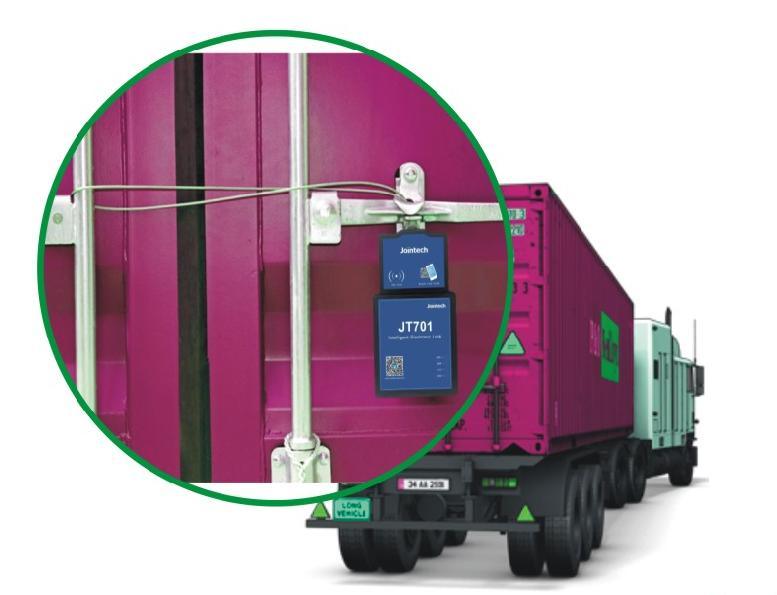 Description:
Type
Function
Basic Function
Transmission mode
TCP
Data automatic upload
Time interval
Locating mode
GPS
Vibration detecting
Built in 3G sensor
Lock Status
Real time monitoring
Unlock
RFID/Remote password
Wake up mode
Call/SMS/Swiping card/vibration/E-Rope cut off
Alarm
Electronic rope cut off alarm
Swiping card alarm
Unlock alarm
Wrong password alarm
Geo fence alarm
Parameters
Material
Engineering plastic
GPS antenna
Built-in
GSM frequency
900/1800/900Mhz
Protection Grade
IP67
Working temperature
-20 - +60
Storage temperature
-40Â  - +80
Relative humidity
5%-99%
Average standby current
Less than 0.1mA
Average working current
Less than 90mA
Dimension
195*114*37mm
Weight
700g(including standard accessories)
Function in detail:Â 
No
function
Instructions
01
locating
GPS locating,LBS locating
1.     standby mode, wake up every 30mins and upload 1 location data.  after wake up by SMS, CALL, vibration, work 10 mins each time.
2.     Moving mode: upload via the setting time interval
02
Electronic-string lock
125K radio frequency base station read ID card number, to avoid wrong reading, high recognize accuracy . RFID read distance can be 20~100mm.
Own-design electronic hanging rope lock, lock can resistant rust, anti corrosion, high hardness, wear resistance
When unlock with RFID, the rope can plug out, if not plug out in 5min, it will lock again automatically.
When plug in the rope, it will lock automatically also.
When the rope is broken by physical damage, system will alert with message.
When power off, rope keep the status as before, means if it locked before power off, it will keep lock status.
If it unlock before power off, it will keep unlock status.  
03
Abnormal alert
Geo fencing alert
electronic lock Safety alert
Vibration alert
Low battery alert
04
Remote control
Remote manage the ID number(RFID) under power on status
Remote unlock, by sending commands.
Configure system parameters: working mode, vibration value, time point under power on status
05
Charging
Charging by USB cable
(extension function )Charging by external power supply. 
When ran out of battery, it's able to use power bank for emergency lock or unlock.
Cardboard Floor Display,Cardboard Counter Display Co., Ltd. , http://www.chcosmeticdisplay.com