Model NO.: ZX-9

Retractable: Not Scalable

Charging Function: Charging Function

IC Chip: Without IC Chip

Customized: Customized

Warranty: 12 Monthes

Input Interface: USB Interface

Output Interface: V8,V3, 2.0 and for iPhone 4 Interface

Color: Withe

Radius: 3.0mm

Trademark: XHC

Transport Package: Retail Package

Specification: CE, RoHS, FC

Origin: Shenzhen Guangdong China

HS Code: 8544421900

Model NO.: ZX-9

Retractable: Not Scalable

Charging Function: Charging Function

IC Chip: Without IC Chip

Customized: Customized

Warranty: 12 Monthes

Input Interface: USB Interface

Output Interface: V8,V3, 2.0 and for iPhone 4 Interface

Color: Withe

Radius: 3.0mm

Trademark: XHC

Transport Package: Retail Package

Specification: CE, RoHS, FC

Origin: Shenzhen Guangdong China

HS Code: 8544421900

                                    

Warm Remind:

If you are interested to any of the usb data cable, please contact us to ask for the complete picture and retail package.

Thanks :)

1. Data cable

2. MOQ: 100 pcs

3. CE,ROHS,MSDS,FCC

4. Warranty: 12 monthes

5. Payment terms:Western Union, Money Gram, T/T, Bank of china.

Product Description
| | |
| --- | --- |
| Name | Â multi-function usb charger cable 4 in 1 usb cable |
| Scope of application: | All mobile phone |
| Input Interface | USB Interface |
| Output Interface | V8 Â ,V3, 2.0 and for iphone 4 Interface. |
| length | 0.3m |
| color | Withe |
| Specifications | CE, RoHS, FC |
| Warranty time | 1year |
Our services

Oem/odm service:

Professional design team for your oem service requirements.We can always design the product based on your requirement.

Value-added service:

We will according customer's requires to help them find a good logictics to ship their goods from our company.

Our certification

1,we have passed ce,msds,rohs,fcc certificate,and provide 1Â year warranty(12 monthes)!

2,we will try our best to offer you the best quality  products!

Company information

We are manfacturer what is produce and wholesale mobile parts.

So we are not only have quality guarantee but also have competitive price.

We hope we can sincerely for your service!

                                      

Warm Remind:

If you are interested to any of the usb data cable, please contact us to ask for the complete picture and retail package.

Thanks :)

1. Data cable

2. MOQ: 100 pcs

3. CE,ROHS,MSDS,FCC

4. Warranty: 12 monthes

5. Payment terms:Western Union, Money Gram, T/T, Bank of china.

Product Description
| | |
| --- | --- |
| Name | Â multi-function usb charger cable 4 in 1 usb cable |
| Scope of application: | All mobile phone |
| Input Interface | USB Interface |
| Output Interface | V8 Â ,V3, 2.0 and for iphone 4 Interface. |
| length | 0.3m |
| color | Withe |
| Specifications | CE, RoHS, FC |
| Warranty time | 1year |
Our services

Oem/odm service:

Professional design team for your oem service requirements.We can always design the product based on your requirement.

Value-added service:

We will according customer's requires to help them find a good logictics to ship their goods from our company.

Our certification

1,we have passed ce,msds,rohs,fcc certificate,and provide 1Â year warranty(12 monthes)!

2,we will try our best to offer you the best quality  products!

Company information

We are manfacturer what is produce and wholesale mobile parts.

So we are not only have quality guarantee but also have competitive price.

We hope we can sincerely for your service!

 

quick connection system including 2810 tool-less module and QCS block and terminal box. Module and box body material is PC and for back mounting frame is stainless steel. 2810 module have two types, one is single pair unit cap and another caps is 5 pair one unit. Contact IDC material is phosphor bronze with Tin plating. 2810 block can be exceed cat 5 standard transmission.

QCS blocks have 30-pairs, 50-pairs, 100-pairs three types to your choice. Tool-less wire design not need any other punch tools. Can be fast and easily finish the cable termination. Module both sides have two cable guide to management.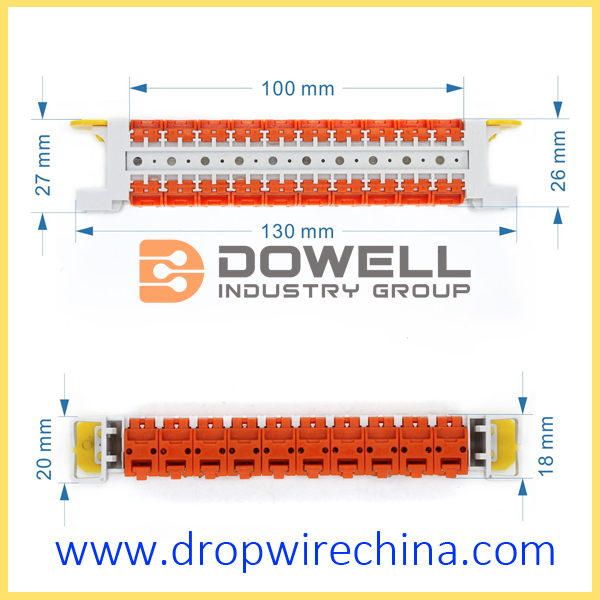 quick connection system,2810 toolless module,2810 terminal block

DOWELL INDUSTRY GROUP LIMITED , http://www.dropwirechina.com